There are many decisions that must be made following the death of a loved one, including the most important ones--those regarding the Celebration of Life Gathering--and the time frame is often quite short. You'll need an experienced celebrant to work within this time frame while being careful not to rush you through this process.
It is typically at this point that I enter the picture. When I receive the information from a funeral home or a call from you, I will promptly work with your schedule to set up an introductory and planning meeting with the entire family.
The purpose of the planning meeting is really three-fold:
To become better acquainted with you, and you with me
To begin to layout your expectations and desires for the elements of the celebration gathering
To hear more about the life story of your loved one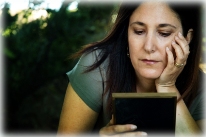 Once we have concluded the meeting, I will at once begin the process of organizing the stories and information I've learned, as well as elements desired, into a specific celebration gathering service plan.
Through telephone or e-mail, I will continue to confer with you regarding additional details or questions concerning the gathering.
Throughout this process, I will coordinate with funeral homes and directors, cemetery personnel, and/or church leaders to create a seamless flow for your family on the day of the gathering.
On the day of the gathering, I will arrive early at the specified location to go over any final instructions you may have for me.
I will then lead the Celebration Gathering and accompany you to the cemetery where I will also lead the graveside and committal portion as desired.